RGB LED Strip Rescue
Sunday, 27. October 2019
Today I was given these RGB Strip Lights that included, the RGB Controller and a 24key remote control. No power supply so I had to source my own. This was destined for the landfill, but before it gets chucked, I'm going to see if I can rescue it and find a practical use for them.
These were original bunched loosely into a ball, then placed under a single bed frame. I'm hoping not too many LEDs have been damaged.

Steemit | D.tube | Engrave | Actifit | Exhaust | Endomondo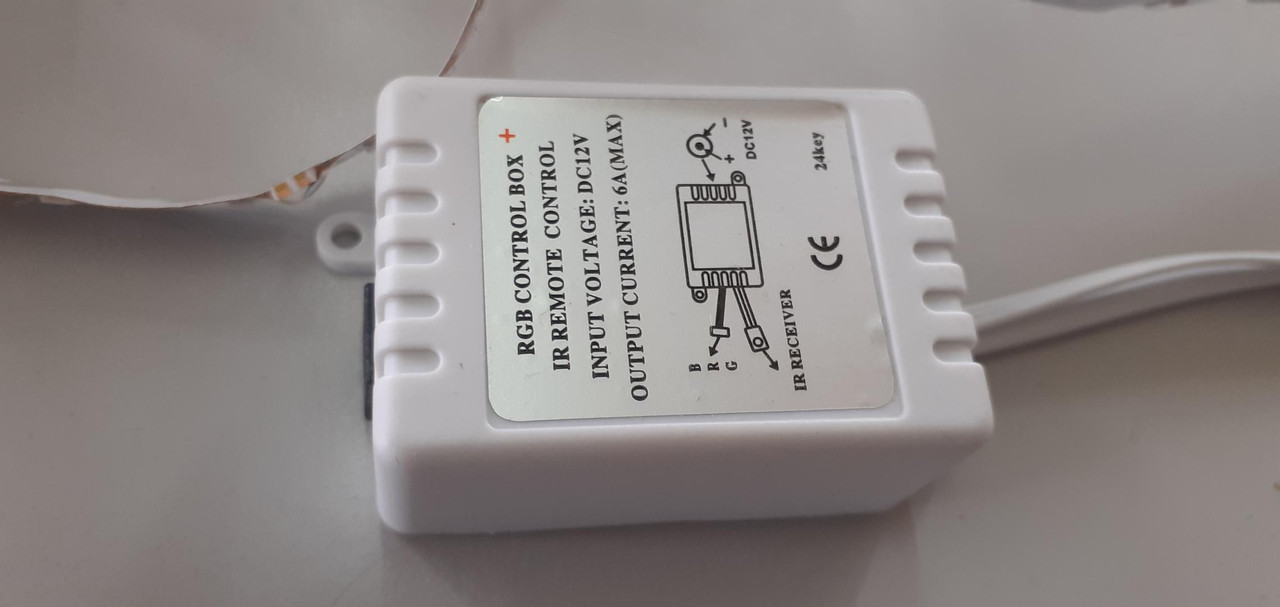 the RGB Control Box with Specs label
Power Up and Test
From that label, 12Vdc at 6A is a pretty beefy load. No normal wall plug that I have spare could supply that demand, at that voltage most would only deliver up to 1.5A. The laptop power supply would handle this quite easily but unfortunately 18Vdc+ may cause some damage. Using a capable buck convertor to get the voltage down to 12Vdc would work too but I have another solution in mind.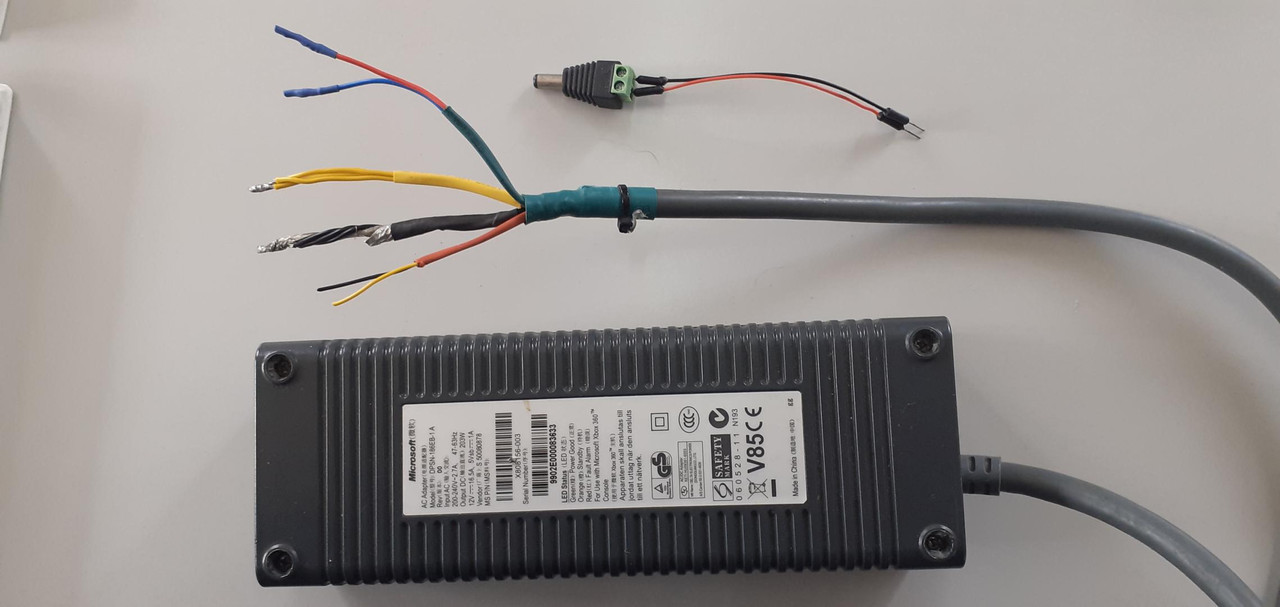 the XBox 360 Power Supply
I have 2 of these XBox 360 Power Supplies spare in the garage, and if you look at the label, this can deliver 12Vdc at 16.5A. Way more than I need, I could easily drive another RGB Strip if I ever get my hands on one.
Prepare the XBox Power Supply
Cut and remove the plug, sort and group the wires according to their colours
| colour | purpose |
| --- | --- |
| yellow | 12Vdc |
| black | GND |
| red | 5Vdc |
| blue | PWR_ENABLE |
Solder and heat shrink the groups, namely the 4x Yellow and 4x Black wires.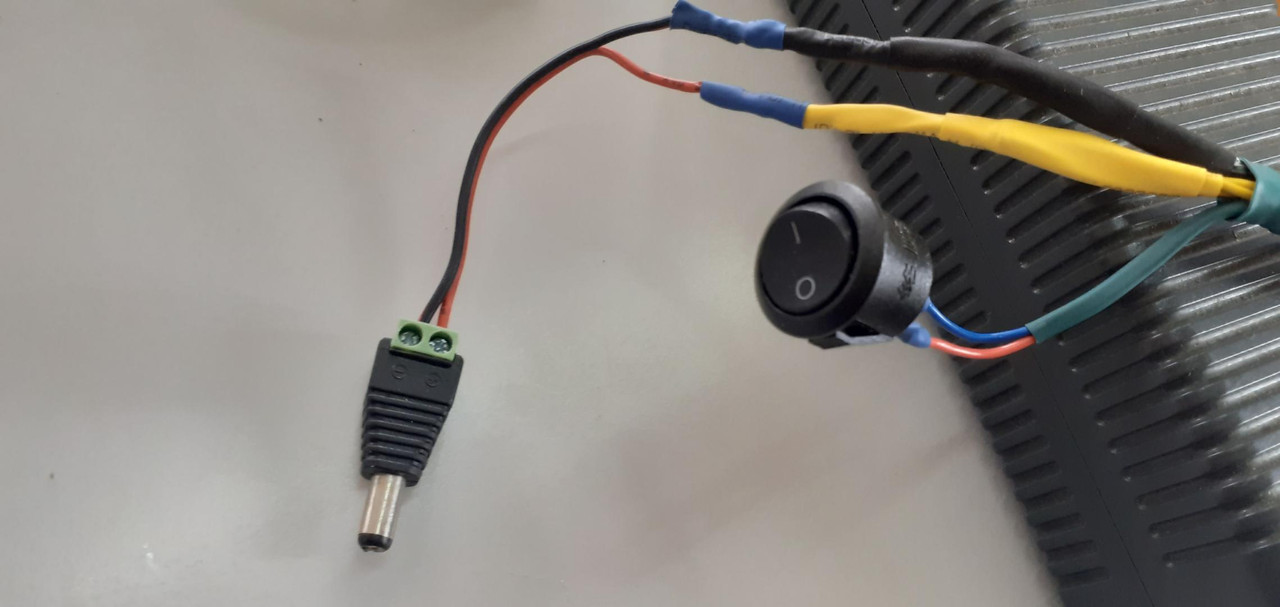 the 12Vdc switch and DC plug
Next we solder a 12Vdc switch between the 5Vdc and PWR_ENABLE wires, this switches between Standby and ON mode. Solder on a DC plug to the yellow and black wires, yellow goes to the inner side of the plug.
Plug the XBox power supply into the House Mains, insert plug into the RGB Control Box, switch the 12Vdc switch to on.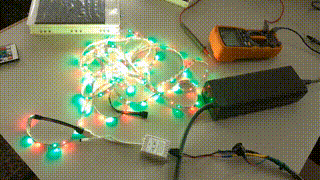 and let there be light
I thought it would be pointless creating a linked video just to show this RGB strip working, so I made this small GIF, works well. Without the manual I didn't really know how to operate the IR remote, but just by randomly pushing buttons there seems to be 9 different patterns plus On and OFF.
This was the easy part, the hard part is how to incorporate this into the spare room. I'm going to call it....
The Tik Tok Studio
The Ebay links below are just me trying to find similar items used in this post.
References
---
click on image to take you to my Engrave page
| CRYPTO | Wallet Support |
| --- | --- |
| ETHEREUM | 0x23Bd7B699383D96513636bf145dCc272a1502076 |
| STEEM | 0x4493de75192e5210091c71506465E31BF5038338 |
| token BAT | 0x6fE7EC6B8bB98210468a15B3235abC80edB70b3d |
click on image to take you to my Steemit page
with every post comes experience, as we all strive to do better.
upvote to 80% voting mana, let's encourage and inspire each other.