Solar Panel Trigger Experiment DIY
Sunday, 03. November 2019
I've always been fascinated with DIY solar panel projects I mustve watched 100's of Youtube videos on the subject. Many years ago I came across this Youtube video " ..... decorative lighting controller by bigclivedotcom". The circuit as he described, was a great way to introduce the practical use of a transistor as a switch. So I decided to replicate the circuit on a breadboard using only 1 LED for proof of concept. It worked just fine.
Sunlight Effect
| Sun | Transistor | LEDs | Battery State |
| --- | --- | --- | --- |
| Sunlight on panel | OFF | OFF | charging |
| No Sunlight | ON | ON | discharging |
Now it was time to create the full project using 9 LEDs. The 1 important mention, was the battery had to have built-in over discharge protection. Most mobile phone batteries is perfect for this project and I have many spares in my shelves.

Steemit | D.tube | Engrave | Actifit | Exhaust | Endomondo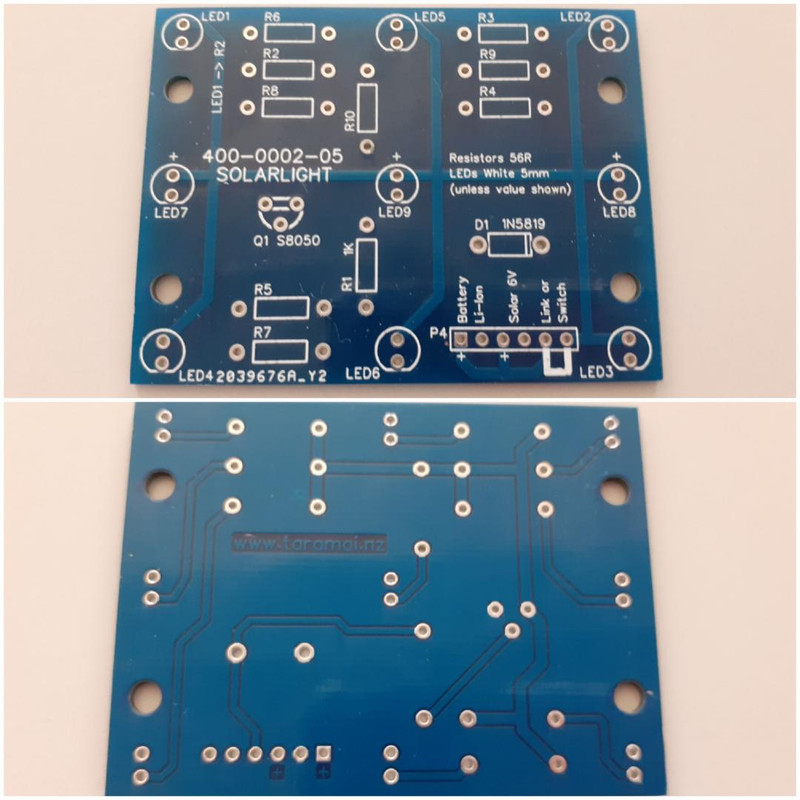 board designed by me on EasyEDA, manufactured by JLCPCB
Trigger: The Design and Build.
this new version has 2 minor changes, 1: spilt the total LEDs to turn on 4 LED's (winter) or all 9 LEDS (summer), 2: the switch postion has been moved to the transistors base instead of the LEDs supply line.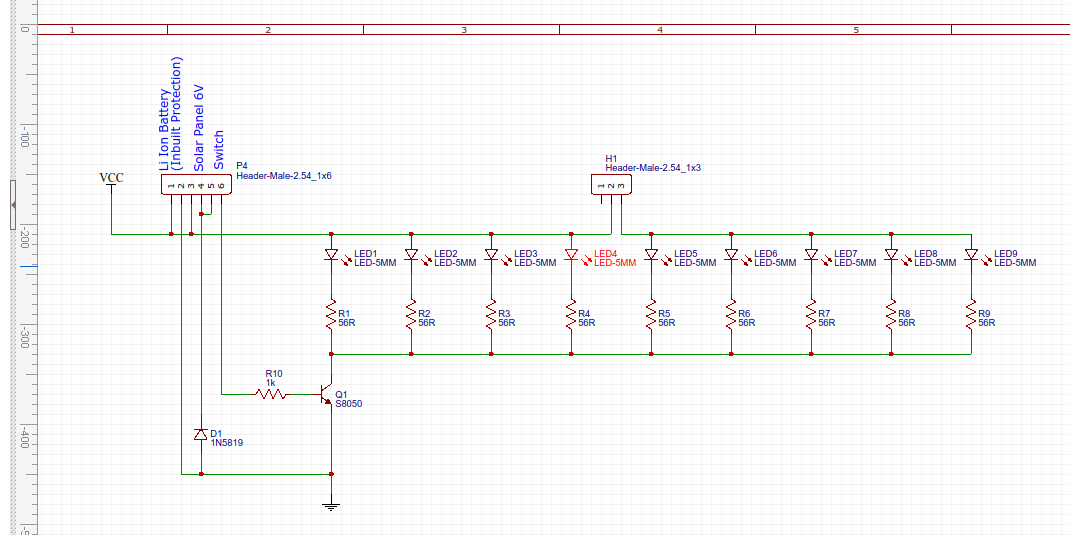 my schematic: this is the updated version
My understanding is, when no Light hits the solar panel, this will cause a backflow from the rechargeable battery back into the solar panel, the diode is used to block any current drain but we can use a transistor to detect this and switch on a circuit.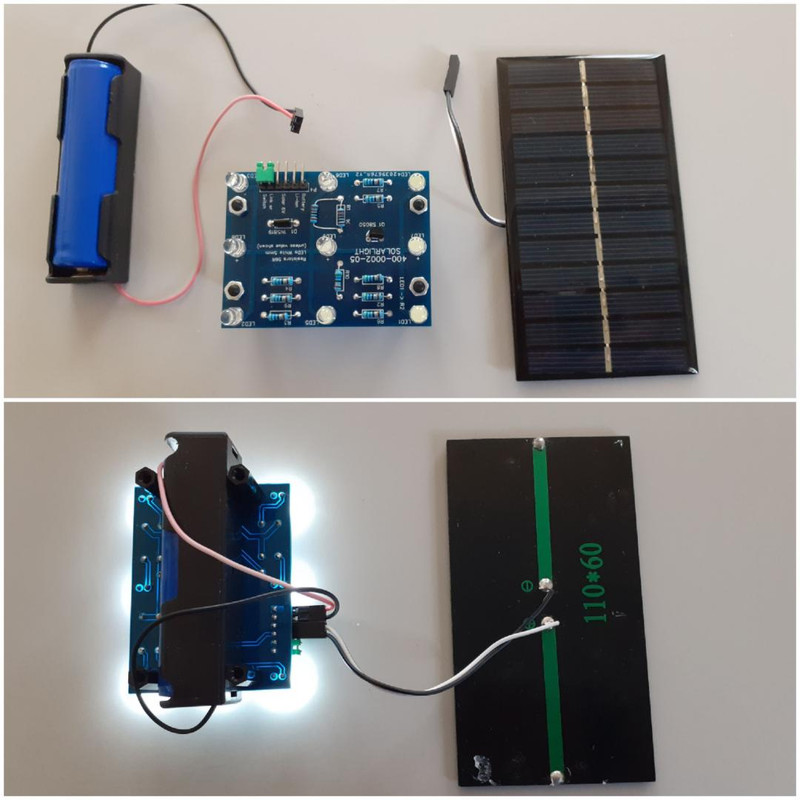 soldering/construction
As you can see, the board had been designed, manufactured, delivered. I ordered 10 PCBs for $19.55USD. It didn't take me long to solder in all the components, add leads to the battery casing and solar panel then connect them up. Cool how the LEDs lit up instantly on connection because the solar panel was facing down on the bench, and when I took this outside the LEDs turned off.
A couple of points to mention here:-
everything but the PCB and battery was bought from ebay.
this 18650 battery HAS built in protection (not cheap)
I've put together 5 of these, the other 4 have used mobile batteries, eg Huawei, Nokia batteries, anything over 1800mAH would work.
I used 4x3mm nylon pillars to hold the single battery case but mounting of this PCB in a case can use these as well, using a different method to hold the battery.
the LEDs were mounted and designed to be used as the Legs so the whole thing can sit on the bottom of a clear plastic case.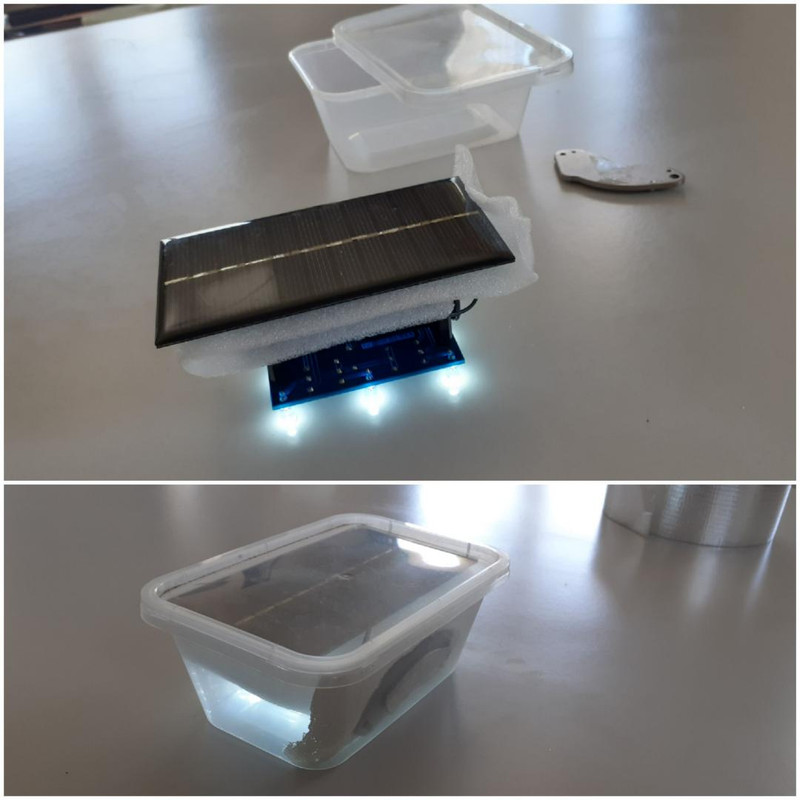 my housing design
That is one of the small containers that comes from you order of Chinese Takeaways. The plan is to create a fully sealed casing that holds this project that I can stick anywhere outside. You can see I pulled apart a stuffed Computer 3.5in Hard Disk drive to get at the powerful magnets. Now all I need to do is duct tape the magnet inside the case, close it, and sort out how to mount it outside.
target, maximise as much exposure to sunlight as possible.
a wooden fence with nail plates
a fence that uses steel supports
steel guttering
clouts (my favorite, nail into wood then paint over it)
boot of your car (LoL, hey looked fantastic in the countryside at night)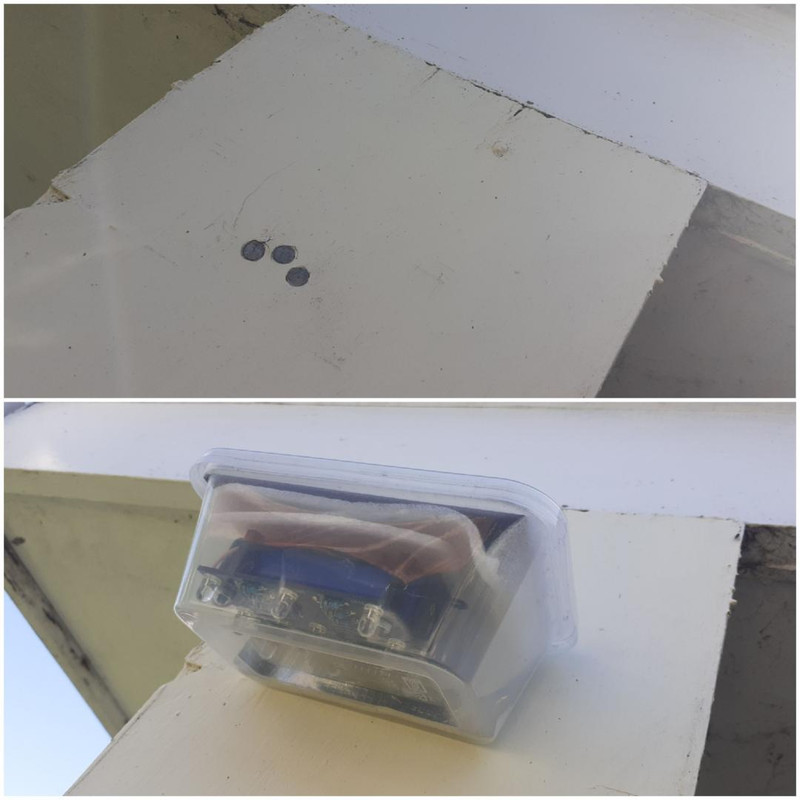 using 3xclouts on the garage
This is surprisingly strong, and has stood up to a few storms, those magnets from Disk Drives are extremely powerful.
Just coming out of our winter there is an immediate improvement that should be addressed, and that is battery capacity. Our days were mostly wet and cloudy, on average 1 day out of 6 was sunny or partially clouded (this would still charge under cloudy conditions, but not as efficient) so the on time during night was limited.
The easiest way to fix this is to increase the number of batteries in parallel (making sure they are similar in brand and capacity) or by reducing the LEDs on the PCB (not ideal but my next version as seen in above schematic is based on this)
I thoroughly enjoyed constructing this and coming up with ideas on how to mount it, even if it is temporary. I did make up 1 with RED LEDs but the only message it gave out at night was "Steal Me"
Sources
---
click on image to take you to my Engrave page
| CRYPTO | Wallet Support |
| --- | --- |
| ETHEREUM | 0x23Bd7B699383D96513636bf145dCc272a1502076 |
| STEEM | 0x4493de75192e5210091c71506465E31BF5038338 |
| token BAT | 0x6fE7EC6B8bB98210468a15B3235abC80edB70b3d |
click on image to take you to my Steemit page
with every post comes experience, as we all strive to do better.
upvote to 80% voting mana, let's encourage and inspire each other.