Volunteering For Community Work
Wednesday, 20. November 2019
Being a Lead on the Neighbourly (NZ) Website does give you certain advantages when it comes to being accepted for community volunteer work. Once you do a few MASS events you get a pretty good reputation, where screening volunteers does take a lot of work and time.
Apart from the Sporting Events, Cycle Races, Triathalons, Rugby Games, it's really nice to get involved in something completely different.
Organisers/ Volunteers: the Duct Tape Holding It All Together!
Like most volunteered work, you get assigned certain tasks, but every now and then you may be ask to choose from a list what you would prefer to do (I hope this is the case for this event). I love doing the jobs others don't won't to do, from ensuring a rubbish free venue to patrolling the car parking areas in the wee hours of the morning!
Taking a small amount of your time making sure everyone has enjoyable experience is so worth it.
I've made this post available on Engrave, so it can be viewed easily on mobile devices (volunteer contact details not shown). All volunteers have received this.
---

My links: Steemit | D.tube | Engrave | Actifit | Exhaust | Endomondo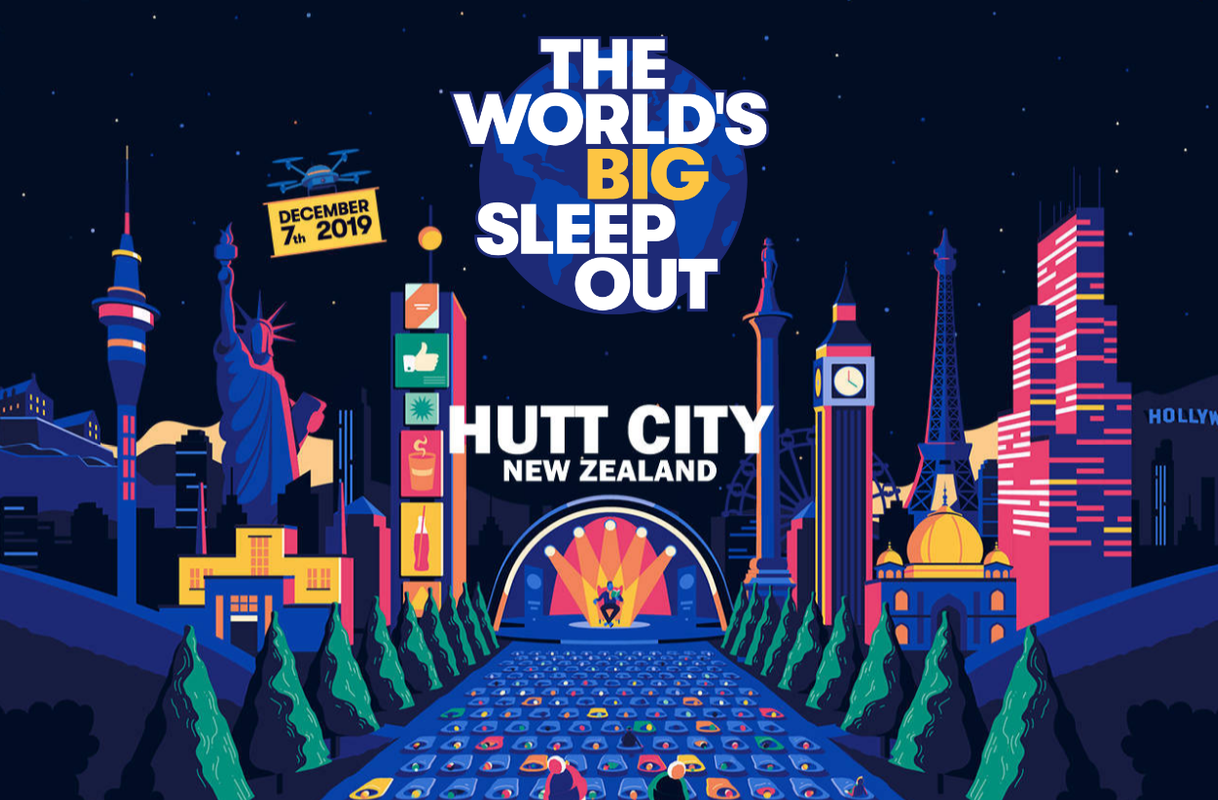 click on image to take you to Worlds Big Sleepout Website
The Worlds Big Sleep Out & Santa@Sunset Event
The World's Big Sleep Out internationally is starting to grow with more and more people from the entertainment world adding messages and time to perform in their respective locations:
Helen Mirren, Will Smith, Chis Martin, Randy Jackson, The Script, Frank Turner, Tom Walker, Travis, Seth Green, The Hairy Bikers,…… and more. We have Richard Taylor (WETA Workshop), satelliting in the guys from So3Mio, Nathan King (ZED), Kara Gordon and a list of over 120 artist here in the Hutt.
We are over the moon with the response we have had and have an eclectic ensemble that would without exception be unique in every sense.
General Information:
The Details:
Date: Saturday December 7, 2019.
Performance period 1: (Santa@Sunset) 6 pm to 8:45 pm.
Performance period 2: (Big Sleep Out) 9 pm to 11.15 pm.
Sleep period: (non-performance) 11:15 pm to 6 am Sunday.
Location: McEwan Park, Marine Parade, Petone. Lower Hutt (Eastern end of the Esplanade)
Rehearsal (if Needed): Friday 6 Dec and daytime Dec 7 (on a case by case with Stage Management)
Parking: We have plenty reserved and secure at the Eastern / North Eastern end of the venue. (we will direct on the day)
Green Room: We have a Scout Hall building private and secure and are also using the Stage Bases (20" Containers) as backstage(s). Volunteers: We will provide snacks, food and drinks during the evening free: Also, there are commercial vendors on site.
Catering: We will provide on the day: It is an alcohol-free event but backstage is OK for those performing. There are also commercial caterers/vendors onsite for the public.
Security: We have professional Security supplemented by our Volunteer Co-Ordinator.
Insurance: DestinationHutt (DH Charitable Trust Inc) has considerable 3rd party cover.
Footwear: As most areas are grass and performance platform on special scaffold platforms anchored by shipping containers with permitted railing, stairs etc we suggest rubber soled flat shoes only.
Clothing: We have no requirement but having both warm and weatherproof clothing wore or with you will be important. Even a summer night in Petone can have a chill. We are meters away from the Harbour and sea breezes can bite.
We have a limited number of donated Event Volunteer T-Shirts (Yellow) which will identify you on the night. You get to keep these as a memento of the event.
Weather: We will only stop event in extreme weather conditions. If cover is required on the various stage/platforms out production will arrange what is necessary to continue where practical etc.
Admission by Public (FYI): We have been asked this more than once: here is the system so you can advise anyone who asks: Pre 9 pm is Family and Free: After 9 pm those staying for the music and the Music and Sleep Out must have Donated a minimum of $30 to our Givealittle Page (Hutt link) which can be accessed from out main website (www.worldsbigsleepout.org.nz) – On the day/night they can exchange the receipt from their donation for an official Wristband at the venue. For those who want to do this at the event they can donate via mobile phone and that will be proof of donation as well. _Some Volunteers will be assigned the task of helping with donation Sales on the Night.
Police: Onsite. Medical: ProMed.
There may be other information over the next short period and we will be advising you of both collectively and individually if required. Please be patient with us as we have moved crazy mountains to even be where we are. The drive is the cause and the worldwide effort being promoted.
---
Volunteers: Specific Direction:
ALL Volunteers will be asked to be at McEwan Park, Petone for pre-event Health & Safety briefing at: 4 pm sharp. This will be followed by the allocation and explanation of the specific tasks needed for the event: Crowd management, Entry Point and Wristband Exchange duties, Parking control, event information/help, free water station control, backstage assistance. Gates open at 5pm.

combining these two events is such a good idea.
I know it's still a few weeks to go and I'm definitely looking forward to it! Hopefully I get to use the headlamp I purchased through Ebay.
Please check out the World's Big Sleepout website (link below) its a pretty good read.
Links
The World's Big Sleep Out (New Zealand) Details About the Nights Events
Neighbourly Community Message Board
---
click on image to take you to my Engrave page
| CRYPTO | Wallet Support |
| --- | --- |
| ETHEREUM | 0x23Bd7B699383D96513636bf145dCc272a1502076 |
| STEEM | 0x4493de75192e5210091c71506465E31BF5038338 |
| token BAT | 0x6fE7EC6B8bB98210468a15B3235abC80edB70b3d |
click on image to take you to my Steemit page
with every post comes experience, as we all strive to do better.
upvote to 80% voting mana, let's encourage and inspire each other.